It's easy to take for granted the critical role vehicles play in the maintenance department's workflow. Every workday morning starts with dispatching safe, reliable vehicles so the maintenance team can complete their daily tasks. That is until one of the vehicles breaks down, and everyone's schedule gets thrown off.
As we all know, not every vehicle breakdown is preventable. But there are things your crew can do to help reduce the chances of vehicle issues. Regular inspections help ensure your vehicle assets' safety, cleanliness, and performance.
This article will cover why you should schedule regular vehicle inspections and what to include during the inspection.
Benefits of Vehicle Inspections
Scheduling routine vehicle inspections benefit everyone--administrators, risk management professionals, the seasonal staff, and even the public. Here's how:
Save on Fuel Costs: Well-maintained vehicles run more efficiently and get better gas mileage. And, as we've all seen, the price of gas can jump quickly and strain our operating budgets.
Increase the Lifespan Of Vehicles: Regularly checking vehicles and performing preventative maintenance helps them run better, longer.
Catching Small Problems When They're Still Small: It's a lot easier to address a break small brake fluid leak in the garage while doing an inspection compared to having the brake line rupture while driving on the highway.
Decreased Risk of Workflow Disruptions: Spotting an issue before a breakdown. Then the team can sub out trucks and continue with the day.
Provides Documentation: Inspection reports provide documentation for accidents, warranty problems, and other risk management issues.
Better Public Image: The appearance and cleanliness of the vehicle fleet is a reflection of the pride and service provided to the community.
What Should A Vehicle Inspection Include?
Here are some things to include on your vehicle inspection checklist.
Appearance
A vehicle's appearance is a reflection of the professionalism of the department. The inside and outside of the car should be clean and in good repair.
Exterior
Look for new damage like dents, scratches, and a chipped windshield.
Excessively dirty (we know it happens sometimes, but they should be clean more often than dirty).
Any signs of an issue, like a leak, dragging part, or strange sounds coming from under the hood.
Interior
Clean and garbage free--Throw away any food, wrappers, etc.
Make sure necessary paperwork--mileage reports, accident reports, etc.--is present.
Clean out any excess dirt or other organic materials.
Tires/Wheels
Tires connect the vehicle to the road. Safe, efficient operation depends on a tire's condition and alignment.
Inspect the tires for:
Proper inflation
Excessive or unusual wear
Tread depth
Cracks on the surface of the wheel
Anything embedded in the tire (e.g., nail)
Loose or missing lugnuts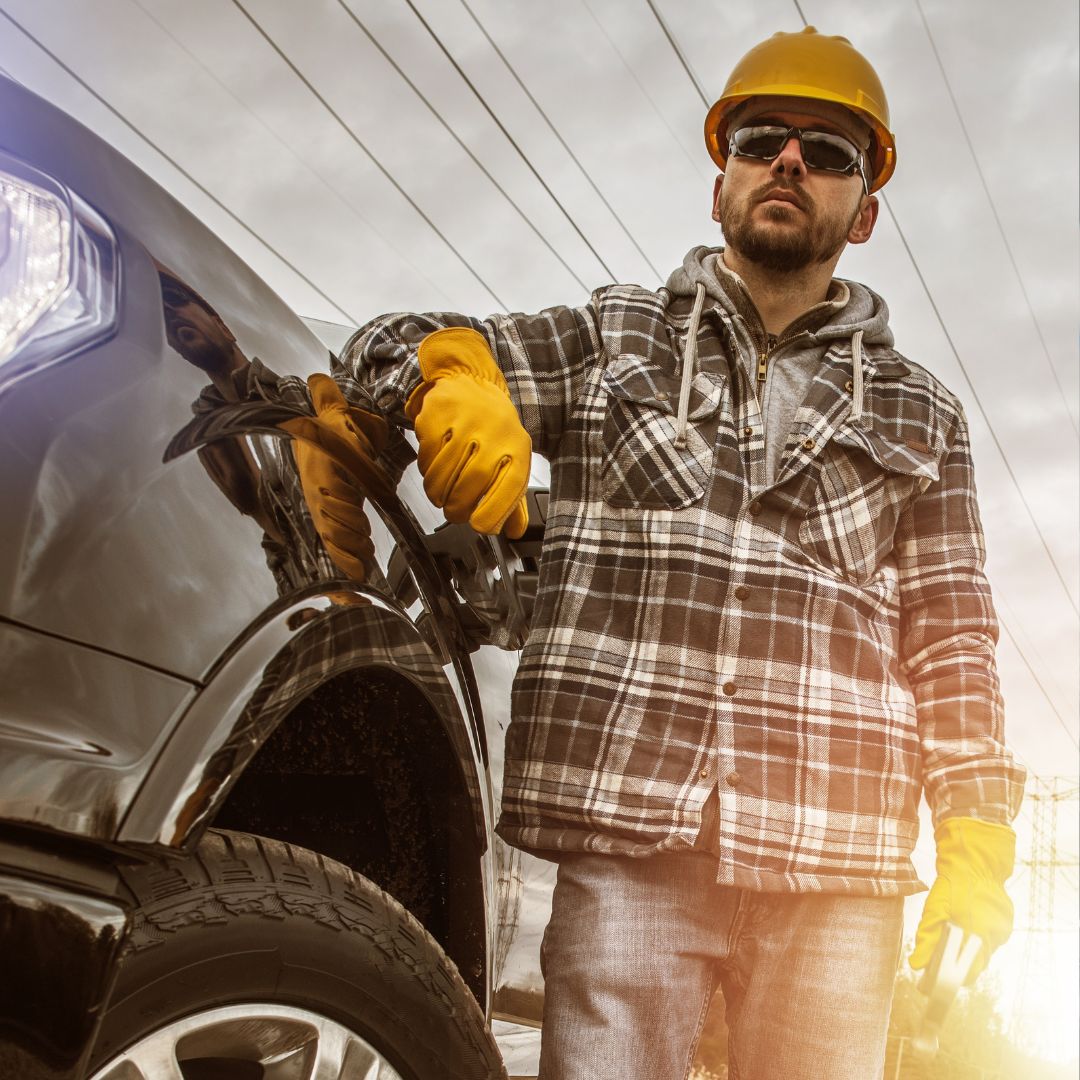 Safety Equipment
Always be sure the vehicle's safety equipment and supplies are present and working correctly. This includes:
Seatbelts
Windshield wipers
Headlights, brake lights, reverse lights, turn signals
Warning lights on the dashboard
First Aid/Emergency Kits
Fire Extinguisher
Paperwork (registration, insurance, accident reports)
Also, be sure there are plenty of vehicle Inspection forms (unless you are completing digital inspections) available.
Under the Hood
Fluids
Fluid levels should be checked, including oil, brake, transmission, coolant, steering, and windshield wiper fluids. Also, complete a visual inspection under the hood and under the vehicle to make sure nothing is leaking or damaged.
Air Filter
The air filter regulates the air flowing into your engine and helps keep out dirt and other particulates. Inspect the air filter and make sure it is not too dirty where airflow gets restricted.
Battery
Ensure the connections to the battery are tight and the battery is secured on its shelf. Look for any signs of corrosion on the terminals.
Belts
Make sure all belts are in place and not twisted. Check for signs of wear, cracking, or damage.
Vehicles Systems
Brakes
Make sure there is resistance while pressing the brake pedal. If possible, check for wear on the drum, brake pads, and rotors. Listen for squeaking or grinding noises when the vehicle is coming to a stop.
Steering
Be sure the power steering is working, and the steering wheel is easy to turn. Also, listen for any high-pitched whine while using the steering wheel, which could indicate an issue with the power steering pump.
Exhaust
Do a quick visual inspection of the exhaust manifold and catalytic converter. Look for damage, cracks, or leaks in the tailpipes and muffler. Be aware of any excessive noise when the vehicle is running and accelerating.
Document the Inspections
Create a standardized form where drivers or mechanics can report the findings of the vehicle inspection.
You can also save time and file cabinet space by using digital inspections. Some computerized maintenance management software (CMMS) solutions automatically generate work orders if inspection deficiencies get noted. Plus, records are stored in the cloud-based server so they can be securely accessed from anywhere when they are needed.