More maintenance teams are using software to communicate better, work more efficiently, and ensure tasks don't get overlooked. Furthermore, agencies--including those in the parks and recreation sector--use software for easier tracking, documenting, and reporting.
The software that's making a big difference in the way crews work is called a computerized maintenance management system (CMMS). Let's look at how a CMMS works, what's needed to implement it, and how this software benefits maintenance crews and agencies.
What is a CMMS?
A computerized maintenance management system (CMMS) is a software solution that helps agencies and businesses by centralizing maintenance information. A CMMS becomes the communication hub where the maintenance team finds work orders, work histories, inspection reports, schedules, asset information, and more.
A CMMS incorporates the information stored in those old file cabinets, work order folders, and even the maintenance schedule roughly drawn out in your head and makes it into an organized, easy-to-use visual interface. All team members could access relevant resources to plan their workday, report issues, and track how they spend their time.
No more searching for outstanding work orders, trying to remember if next week was when your team leader has a vacation, or wondering what happened to the inspection report from your busiest playground. A CMMS is a highly specialized database that can support the many functions of a maintenance team so they communicate better and work more efficiently.
What kind of equipment is required for a CMMS?
Most modern CMMS software is cloud-based. No costly hardware needs to be stored and maintained at your site. Some don't even need information downloaded on the devices using the CMMS.
The interface gets accessed from any web-enabled device like a laptop, tablet, or smartphone. The information is kept secure by usernames and passwords. The maintenance manager or system administrator controls what information each user can access.
Also, Software-as-a-Service (SaaS) from CMMS partners allows their tech experts to remotely make adjustments without compromising your data or how it's currently used. So, if you have an issue with the software, the CMMS support team can work with you and your team to create the solution you desire without completely disrupting workflow.
How is a CMMS used?
Depending on the software you choose, a CMMS can be vital for your maintenance program. Sure, it won't mow the turf or move the branch that fell on the trail, but it will improve the efficiency of how those things get done.
For example, you'll be able to assign a person/crew and the appropriate equipment for mowing at your assets. You could track how long it took, any equipment problems, and how many hours the equipment has left before the next servicing.
At the end of the growing season, you could generate reports outlining the hours spent mowing each asset, equipment usage, and if there were any anomalies based on the team assigned to the task. And that's just the beginning...
But…You may be wondering how long it will take to learn a system with all these features. There's good news. When you team up with a CMMS partner, they customize the software to collect and process the information that's important to your agency. If there's information that's not useful, you don't need to be collecting it. Keep it simple, right?
A typical CMMS operates like this: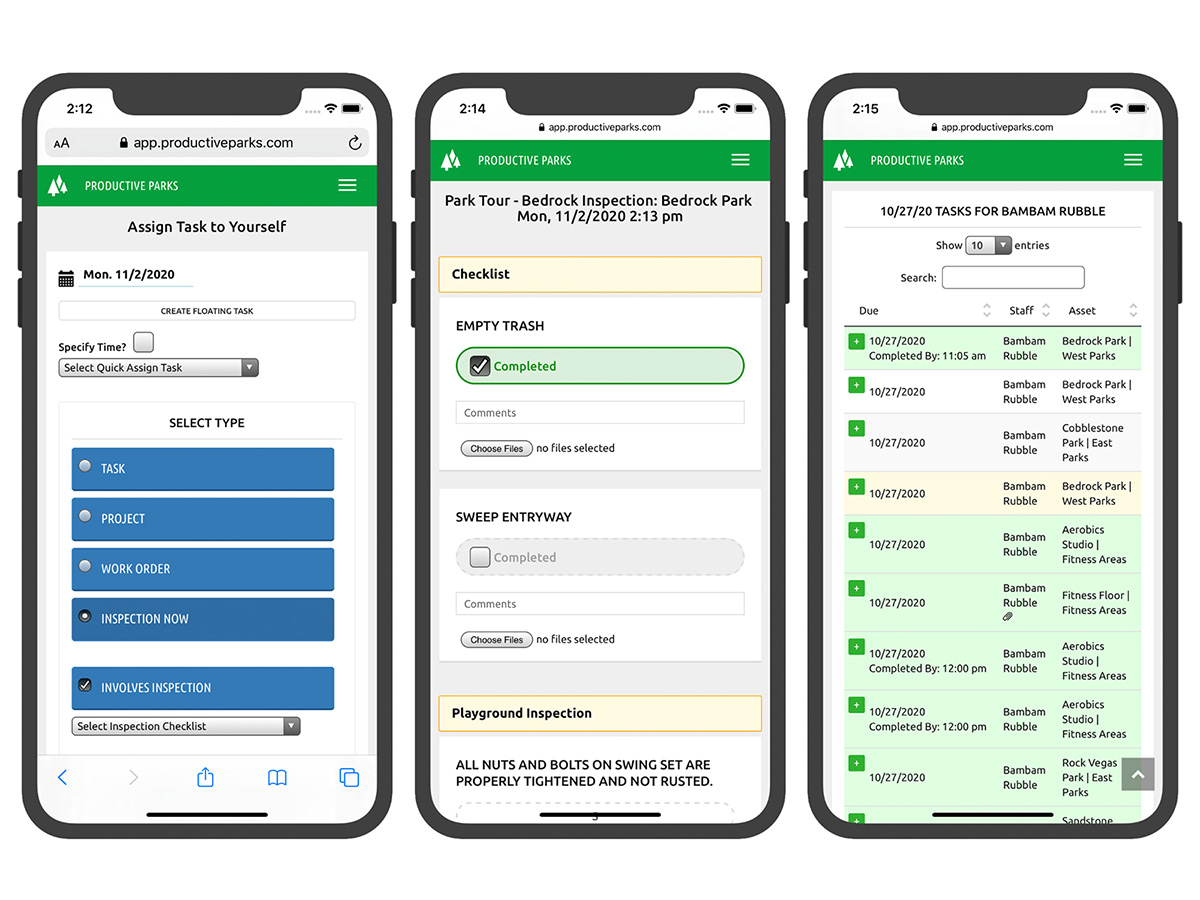 The Maintenance Manager assigns tasks. The manager chooses who, when, and what equipment gets used for a task at a specific location. For example, a task may be an inspection, one-time job, preventative maintenance work, or standing work order.
Technicians/operators complete tasks. They report the task's status, time spent, and any issues. Updates occur in the field with a tablet or cell phone. Technicians also get access to electronic manuals, documents with procedures, and other relevant info to ensure the work gets done correctly or the equipment is cared for properly. Work orders can also be generated from the field based on findings during an inspection or task.
The Maintenance Manager monitors the information and generates reports when necessary. The manager stays current on all information regarding the maintenance team. When an important meeting or budget planning session comes up, the manager quickly generates the appropriate report with the CMMS tools. It's almost like having an "eye in the sky" for all the maintenance personnel, parks, and facilities.
What are the Benefits of Using a CMMS?
Once you get a CMMS set up for your agency and your team gets oriented on how to use it, you'll start noticing differences almost immediately. Communication will improve. Tasks won't be overlooked. It will be much easier to find the information you need when you need it.
Benefits of using a CMMS include:
Improved productivity among the team
More professional appearance of assets
Better organization of tasks, assets, and equipment
Each member of the crew knows what to do on a given shift with the visual schedule
Fewer instances of downtime or equipment failures with routine scheduled inspections
Increased asset lifespan (fewer capital expenditures)
Better engagement between technicians, team leaders, and management staff
Improved inventory control--you know what you have and when it's time to reorder
Get more precise insights into all aspects of the agency's maintenance work
Have inspection reports easily available for risk management and compliance checks
What to Consider When Shopping for a CMMS
When choosing a CMMS, there are some factors you need to consider.
First, you want to identify any core issues your maintenance team faces. Ultimately, the goal of a CMMS is to provide solutions to these problems. Think of it this way: a doctor's treatment is more effective when a problem is correctly diagnosed. The best medicine in the world isn't going to help much if you don't accurately identify the cause and symptoms.
Next, you want to determine what CMMS features would be most helpful for your agency. Prioritize the:
Must-Haves: Features that will become solutions to your core issues.
Nice-to-Haves: Features that may benefit the team but aren't essential.
Then you want to assess your team. How willing are they to learn and use the CMMS? Do you have a bunch of guys that are a couple of years away from retirement with one eye on their work routines and the other on the calendar? Are you getting a more diverse crew of younger individuals who already integrate tech into most areas of their lives?
Remember: The most effective CMMS is one that gets used.
Luckily, most CMMS software is relatively straightforward to use once set up. Who needs something that will take a lot of time to save time?
Also, some teams find CMMS software created by experts in their specific industry is much easier to implement and for their crew to adopt.
That being said, it will take some time and effort to make a CMMS work with your team. Successful transitions to CMMS software require careful planning, team cooperation, and management to keep everyone on the same page.
Change isn't always easy, but sometimes it's well worth it.
Does a Park & Recreation Agency Really Need a CMMS?
Like many other industries, parks & recreation agencies have saved time, money, and headaches using a CMMS. Actually, parks & recreation maintenance departments may benefit more than other industries.
A lot of factors affect a parks & recreation maintenance workflow. Some factors are beyond the control of even the most meticulous manager. Programming, the weather, visitor usage, and facility schedules all play a role in the often complex maintenance scheduling of a parks crew.
Making workflow changes and quickly communicating them prevents misunderstandings, missed tasks, and costly downtime. A CMMS allows this to happen more efficiently.
How Can Productive Parks Help My Agency?
Productive Parks is a CMMS created specifically for parks & recreation settings.
Our developers have over 50 years of combined experience working with and for parks & recreation agencies. We created this software with an intimate understanding of the requirements and challenges faced when managing staff, parks, and facilities.
Productive Parks will help your parks & recreation agency better manage:
Task & Labor Tracking: Easily track labor hours by staff, asset, or category. Generate customized reports for budgets, personnel reports, and more.
Inspections: Schedule and assign inspections of parks, facilities, and equipment. Automatically generate work orders if any deficiencies get noted.
Work Orders: See work orders through to their completion. Receive, assign, and track work orders from any web-enabled device.
Inventory Management: Always know what's in the shop and storage closets. Get notified when inventory drops below a predefined level.
Asset Management: Know the total cost an asset has incurred. Quickly get information on the maintenance costs, inspection findings, and preventative maintenance history of any asset in your agency.
Reporting: From a team huddle to a board meeting, easily create custom reports using the flexible Report Engine.
Asset Replacement Planning: Getting the big picture on your assets so you know when replacement is necessary and how to budget for it.
Productive Parks CMMS software gets tailored to the specific maintenance needs of your agency. Your team remains supported through the entire onboarding process. Our IT experts also provide lifetime support, so your team is never left wondering what to do next if something changes in your agency.