If you're looking to replace one of your older playgrounds or transform an outdoor space, here are some ideas to get the creative juices flowing.
Playground technology has come a long way since most of us were kids. Complete playground systems have replaced the days of the slide, swings, monkey bars, and teeter-totters. These playgrounds are safer, more interactive, and provide enjoyment for many people.
And there are so many design options these days!
That's right. You won't have a shortage of playground structures and features to consider. Choosing one could be daunting. The experiences you want to provide should guide the process.
There are a few predominant, interconnected themes present in many modern parks. Here are the four most common.
Inclusiveness
We all want as many people as possible to feel welcome and enjoy our parks. Recent years have seen huge strides in making playground equipment more accessible for those with disabilities. At some of the newer parks, someone with mobility issues easily gets on the equipment and interacts with its features. What's even better, kids of all abilities still enjoy the structures.
But inclusiveness goes beyond standards set by the Americans with Disabilities Act (ADA) and other regulations. An inclusive park meets the specific needs of your community.
Pay attention to the demographics, trends, and who may potentially be using the parks and playground. With that information in mind, you can find the most inviting features for the playground.
For example, a neighborhood with more older folks may include features that appeal to that demographic, like a walking path or more shaded areas. Then have a smaller playground structure for younger children when the grandchildren visit.
Or maybe you're noticing the older folks starting to downsize and move out of the area. Younger families are moving in. You want to be more forward-thinking with the selection process since most playground equipment should last at least 10 years. Consider the surrounding area and how the park gets used.
As you'll see, adding an inviting playground to your asset is not a one-size-fits-all process.
Intergenerational Play
Being inclusive also means getting the whole family involved. Families that play together stay together. That's right, parents--and even grandparents--don't have to stare at their cell phones while the kids play. They deserve a little fun, too.
Providing parks that are engaging for both adults and children is a great way to encourage interactions and physical activity for the whole family.
Intergenerational parks can include:
Paths for nature walks
Permanent Structures for games like bean bags (cornhole) or chess
Spots to sit and observe natural areas
Shaded areas
Features at the playground that parents can navigate
Amenities that encourage interactions together, like a picnic area
Exploring Sensory Play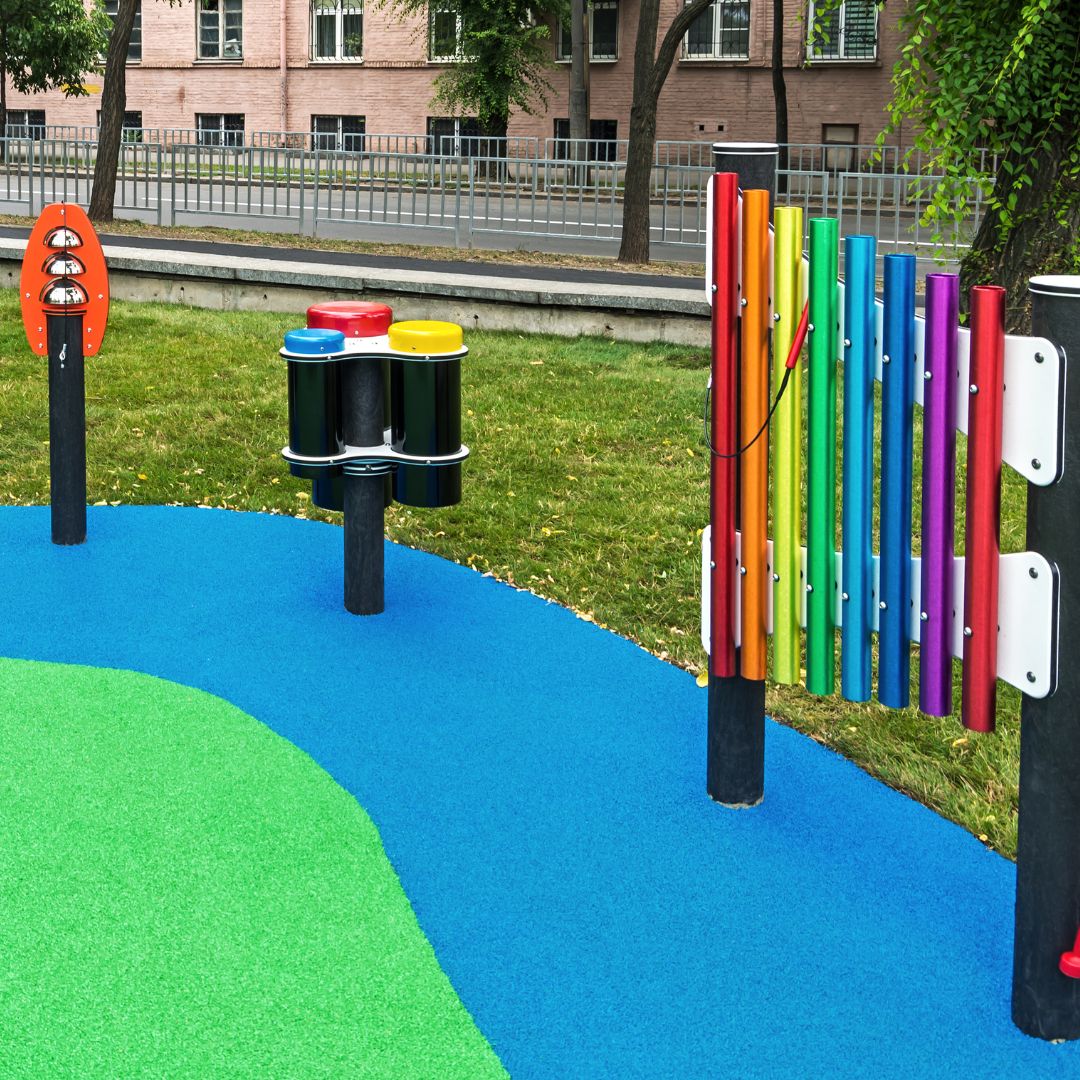 Exploring the fascinating world of our senses is essential for brain development. Our bodies and brains are wired to experience the world through all our senses.
Playing outdoors is a sensory experience in itself. Our playgrounds offer even more opportunities for children to explore and experience in a safe, non-threatening environment.
Sensory features help a child develop cognitive, language, creative, and physical skills. By trying new things, children gain confidence. And interactions with peers help with learning social skills and dealing with conflict.
Sensory features can include:
Sound
Shapes
Textures
Movement
Varied colors
Fragrant Plants
Natural Features
Water features
Sand boxes
For example, many newer parks have elements where kids can explore sound and music. These elements allow a child to create music, develop a new interest, or uncover a hidden talent.
Sensory experiences in playgrounds benefit children of all ages and ability levels. Some children with special needs may find that the extra time and stimulation at a playground help practice emerging skills. Other parks have more sheltered areas for overstimulated kids to pause for a little bit.
Add equipment specifically designed for sensory experiences to help patrons explore the playground in different ways.
Promoting Physical Activity for All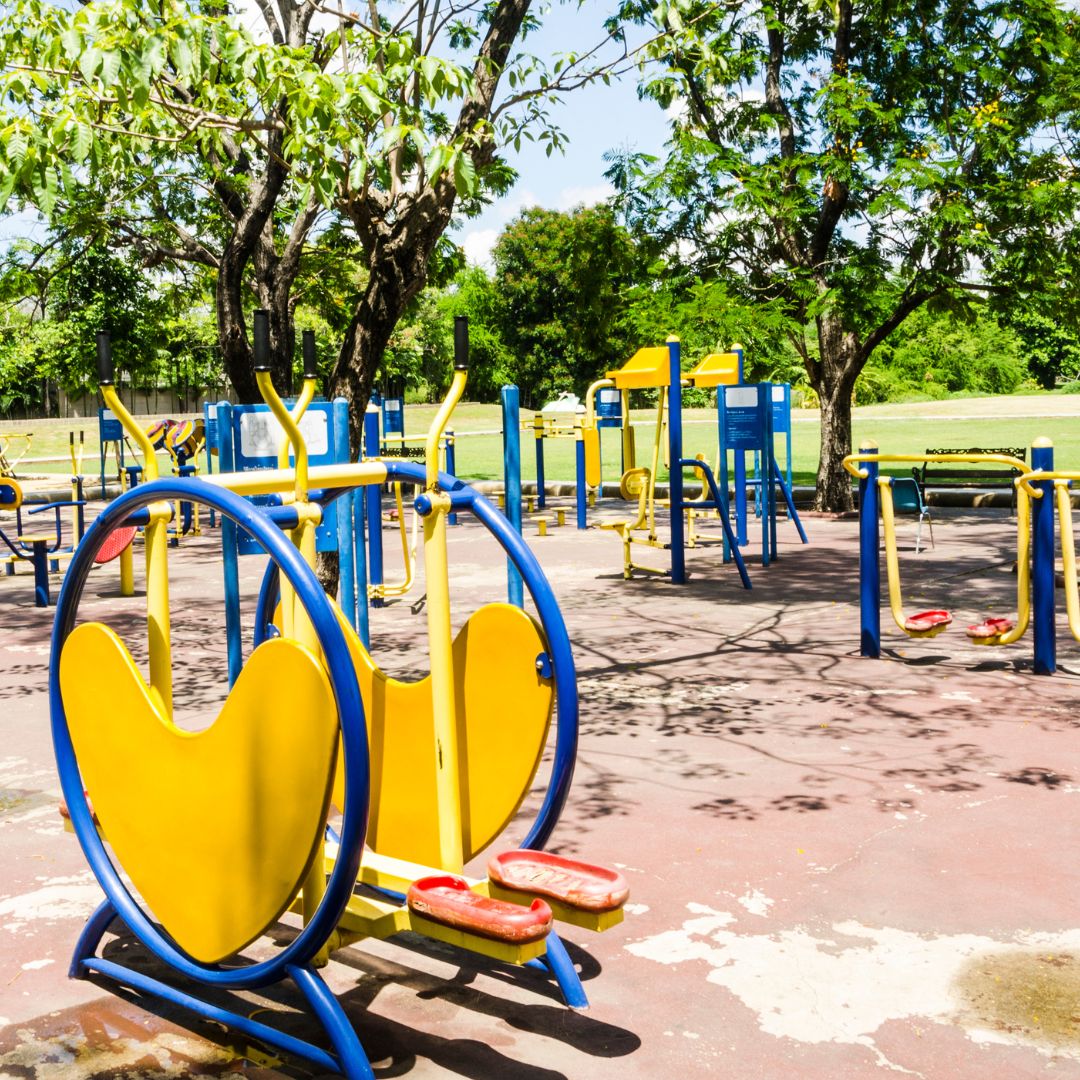 Playgrounds naturally encourage physical activity. It's one of the best outlets for children to enjoy active, unstructured play. Many playground features do a great job of testing and enhancing a child's physical abilities.
But there's another "playground" type that is more inclusive to adults and older children.
During the pandemic's peak, many people found ways to meet their physical activity needs outdoors. And some people never looked back. Outdoor fitness spaces surged in popularity and continue to be a well-used feature in many parks.
Outdoor fitness spaces also act as great intergenerational areas for older children who are losing interest in playground equipment and may be getting ready for more serious team sports. Parents and their children could work together and develop healthy habits contributing to their long-term well-being.
And outdoor fitness spaces--even if it is a jogging track with a few fitness features--can serve as an excellent multigenerational, inclusive space for those that don't want or can't afford a gym membership.
See how these concepts all tie together?
Choosing the Right Features for Your Area
So once you narrowed down the basics--specific area, size, budget, and general type of the equipment your agency will use--it's time to look through the websites, brochures and catalogs.
But first, do these things to help you decide.
Determine the Needs of the Area
Successful planning requires knowing who will use the playground now and during its usable lifespan. For example, a playground near an elementary school and sports fields will get used differently than a small park nestled in a subdivision.
Start by asking how the playground could be inclusive to all. If you're unsure of any specific needs, a great resource is talking to your local special recreation association or school's special education department. A little preparation can go a long way in helping a child with different abilities feel included in everyday play.
And then look at the community as a whole. What do they value? What are their needs?
Does the community lack an affordable gym? Consider adding some physical activity features adults could use while kids play.
Is the community concerned about safety and cleanliness? Add bike racks or emergency call stations. Choose trash receptacles that fit in with the design of your park.
Does the playground reflect the diversity of the surrounding community? Should signs be bilingual? Does the park design feel welcoming to everyone?
These are all questions to ask during the planning process.
Find Options That Fit Your Operating Budget and Workflow
The capital expense, of course, is just one aspect of budgeting for parks. You must also consider the maintenance, regular inspections, repairs, and staffing needed to keep the surrounding areas safe and presentable.
For example, if you have a small staff that's already stretched to the limits, will they be able to handle the maintenance and inspections of a splash pad during the summer?
Keeping data about your current workflow allows you to plan the extra work involved in maintaining a new playground. You want to ensure you have the resources to keep the playground safe and fulfill warranty agreements.
Ask for Feedback from the Community
Once you narrow things down, see what the community thinks. Create some mockups and share them on social media. Allow families to vote about what park design they like best. Hold a couple of community meetings.
Chances are you will get a lot of feedback. Some of it can be very constructive and helpful in making the playground and park area more inclusive, intergenerational, sensory-friendly, and a spot where anyone can get physical activity.
Of course, you can't cater to every demand, but you'll start noticing common themes and needs in the community. These commonalities will help with the final decisions.
The Takeaway
Adding or remodeling a playground is less about the equipment and more about creating an experience for the community. How will that equipment allow the greatest number of people to feel welcomed and engaged?
By doing the research, you may create a playground the community loves, your agency can afford, and your team can maintain.
Everybody wins!