You don't often hear "recreation" and "emergency management" used in the same sentence. It may seem hard to discover a connection between the two things.
But when you take a closer look, Parks & Recreation departments can be invaluable resources for the community in the case of a disaster or emergency.
Using Recreation Departments for Emergency Management
Effective emergency management means being creative, adaptable, and resourceful despite the challenges of the crisis. A parks department's resources--human and property--can help with emergency management before, during, and after a crisis.
Here are some ways parks and recreation agencies can assist with emergency management:
Shelter
We've all heard how climate change contributes to more severe weather. When an area faces a weather-related disaster, it often takes the entire community to come together to help those affected.
A parks department's assets may serve as a respite area or shelter in the case of an emergency. For example, a recreation center can be used for temporary housing during flooding or a tornado. Facilities can also serve as a command post during emergencies or a location to distribute resources such as food, water, or clothing.
During a heat wave, facilities, splash pads, and shaded areas can provide relief for those without air conditioners.
Personnel
One of a parks department's most important resources is its personnel. Recreation professionals have unique skills and experience to help manage people and resources during emergencies.
After all, parks staff have experience with facility operations, risk management, child care/development, essential maintenance, landscape management, and human resources. Many team members have CPR and First Aid certifications, and others possess more advanced skills like lifeguard training or wilderness first responders.
The experience of implementing large-scale events can help response teams handle crises. Many events don't go exactly as planned. Teams have to adapt if something unexpected happens quickly. Recreation professionals can assess, troubleshoot, and find solutions to ensure success.
Plus, those in your department have experience working with vulnerable populations like the elderly, children, or those with special needs. The rapport established may help those populations feel calmer, more secure, and willing to follow along with any emergency plans.
Resources
A parks department's equipment and supplies can also be helpful during an emergency. Maintenance equipment like chainsaws can help cut up large fallen trees. Snacks and bottles of water from concession supplies can be used as nourishment. Tractors, trailers, or carts can help to bring supplies where they are needed most.
Restoration
After an emergency, recreation departments often play an instrumental role in the community--taking the first steps to restoring normalcy to the public.
Think about it: once the pandemic hit, one of the questions just about everyone had was, "When will things return to normal?"
When something out of the ordinary impacts a community, everyone works together to address the basic needs of others. Once these needs are met, people start to seek comfort in enjoying the things that make up their daily routines.
One key aspect of returning to normal involves pursuing leisure and recreation activities. Parks and recreation professionals provide this comfort by letting those in the community start participating in the things they love to do.
How Parks Departments Can Prepare for Disaster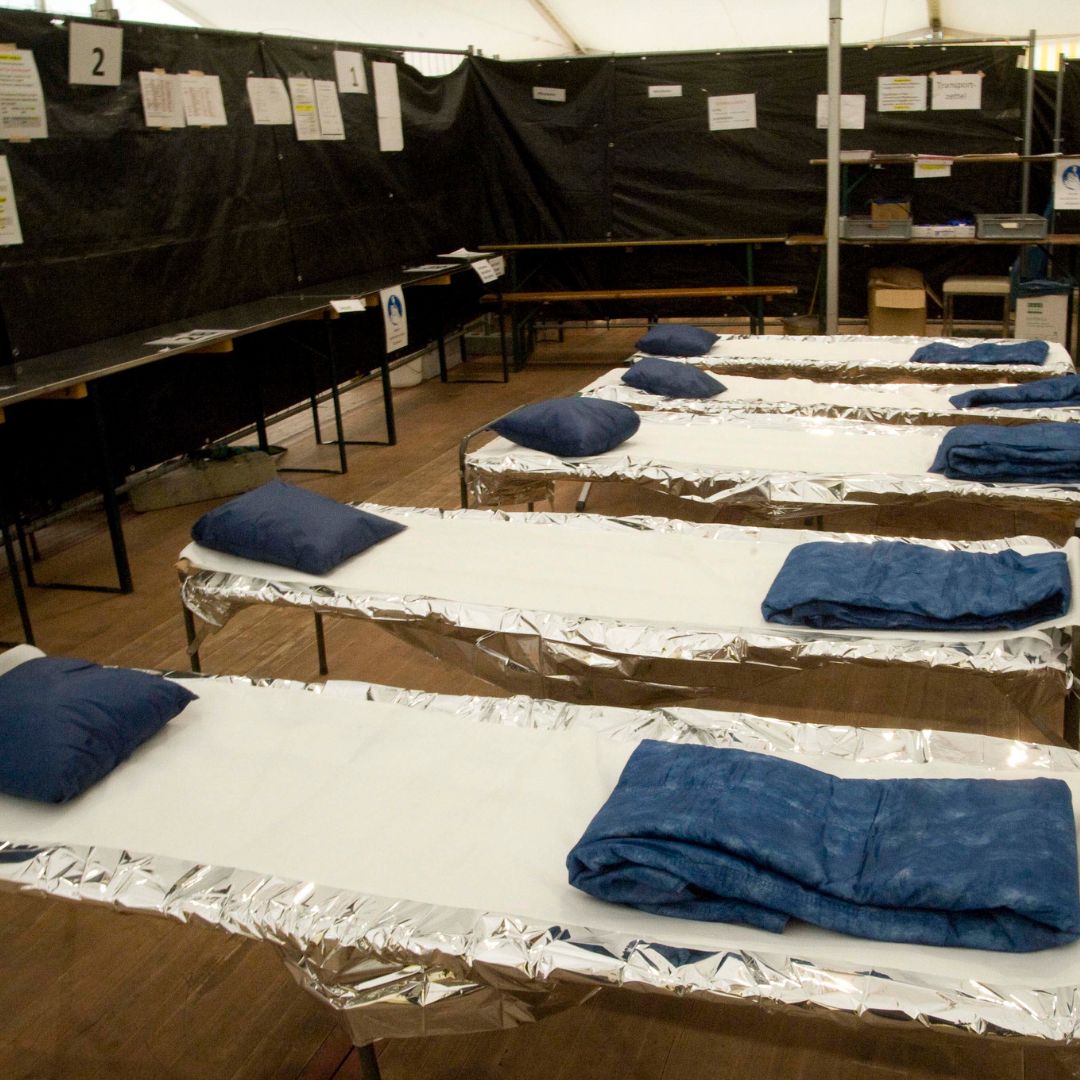 A 2019 survey conducted by GP Red found that just over half of the departments surveyed had a Park and Recreation Emergency plan in place. More alarming, only 36% of departments received formal training for emergencies or disasters.
As we're well aware, successful events require planning. Personnel from all disciplines need to understand what to do and how to do it during an emergency.
Develop Emergency Action Plans
Emergency Action Plans are written procedures detailing how the staff should respond during various types of emergencies. If your agency doesn't have an EAP, it's time to create one.
Emergency Action Plans guide during:
Natural Disasters
Extreme Weather
Fires
Disruptions in services like power
Human Created Disasters
Health Emergencies
EAPs could discuss evacuation procedures, escape routes, alerting the public about an emergency, and anything else that will keep staff and the public as safe as possible in the emergency situation.
Provide Training
The best EAPs mean nothing unless they get communicated and practiced. Keeping them in a binder and making new staff read them as part of the orientation process isn't enough.
Imagine this: Your department required you to do a first aid and CPR training class as part of your onboarding orientation. Twelve years later, you come upon someone unresponsive. You tap the person's shoulder, but still no response. You try to think back to your training over a decade ago. You wished you had a better memory--or at least kept the workbook.
Or, hopefully, the situation would play out more like this: You're required to complete a yearly First Aid and CPR class and pass a skills test. After twelve years of blowing into latex dummies, you come upon someone unresponsive. As a reflex, you tell a coworker to call for help. You check for a breath and pulse. Nothing. You begin CPR almost without thinking about it.
Train. Practice. Repeat regularly.
Know Your Inventory
An intimate understanding of the agency's properties, facilities, equipment, supplies, and personnel will make dispersing these resources much more manageable during an emergency.
Also, keeping a detailed inventory helps to get items repaired, replaced, or restored quicker if they are damaged in a disaster.
Repurpose Available Resources
During an emergency situation, finding ways to use whatever resources are available to keep people safe, informed, and at ease can help lessen the effects of a bad situation.
Brainstorm with your team how to use your available resources in different ways should disaster strike.
Maybe your facility management software can help track who enters a shelter facility. Or your maintenance management software can create real-time work orders and assign staff to damaged areas. You can use supplies to manage parking during large events to section off a dangerous area.
Emergencies Happen
For just about every emergency that occurs, there are those that say they never expected it to happen in their community. Unfortunately, bad things happen just about anywhere.
You can't always avoid emergencies, but you can have plans in place for when it happens. Preparing and understanding the resources available helps the emergency management team help those in trouble quicker and more efficiently.