It may be just 10 or 15 minutes of your morning, but it could greatly impact how your team handles the rest of the day.
A daily team huddle may seem like a formality for some. Others may view it as a distraction.
Leaders who take advantage of that time correctly, however, can align the team, focus on the day, and build rapport with each other.
This article discusses team huddles, why they are necessary, and how to make the most of these brief meetings.
What is a Maintenance Team Huddle?
Just like in football, a team huddle is a chance for everyone to get together, get on the same page, and motivate each other to get the job done.
Team huddles can be especially helpful for parks and recreation maintenance teams because there are many moving parts within the team and the agency. Plans could change instantly--the weather, a call-off, equipment breakdown, or an event gets rescheduled. When a team knows how to handle these changes, they can act proactively.
During these short meetings, a team can:
Gain a better understanding of everyone's priorities and tasks
Help troubleshoot any short-term issues
Allow managers and supervisors to check-in
Align the team for a better workflow
Benefits of Team Huddles
Here are some things you'll notice with routine team huddles:
Improved communication: Starting the day with everyone having the ability to discuss what needs to be done and how to do it can help reduce miscommunication.
More collaboration: Effective team huddles allow everyone to contribute briefly, which helps them get skin in the game.
Better Accountability: Collaboration helps the team gel and hold each other accountable for reaching shared goals.
Greater Focus: The immediacy of a team huddle allows each member to focus on the here and now. There is only time to focus on what's important.
How to Get the Most Out of Maintenance Team Huddles
Many of those working in maintenance feel more comfortable "doing" than talking about doing.
So if you're getting pushback--you know, Not another meeting!--then it's essential to structure team huddles so they provide value to everyone. You don't want to waste time with a bunch of unfocused talking heads.
After all, there's too much to do during the busy season and not enough time to do it. Wasting time means things aren't getting done.
Here are some tips for a focused, productive team huddle:
Keep it Short and Focused
A team huddle is not a time to get into lengthy debates. Think of it as a briefing where everyone shares what needs to get done and what they're doing. Aim to keep the meetings under 15 minutes.
If completing a huddle in this time frame is challenging, set a timer. Once that timer goes off, the meeting gets adjourned. The team will soon learn to share whatever they need in that timeframe.
Set a Clear Agenda
Prepare an agenda in advance.
If your agenda isn't focused, your huddle won't be, and neither will your team. Have something for everyone to refer to--like a handout of the daily tasks. Another quick way to focus is by having the team log into the dashboard of their maintenance management software.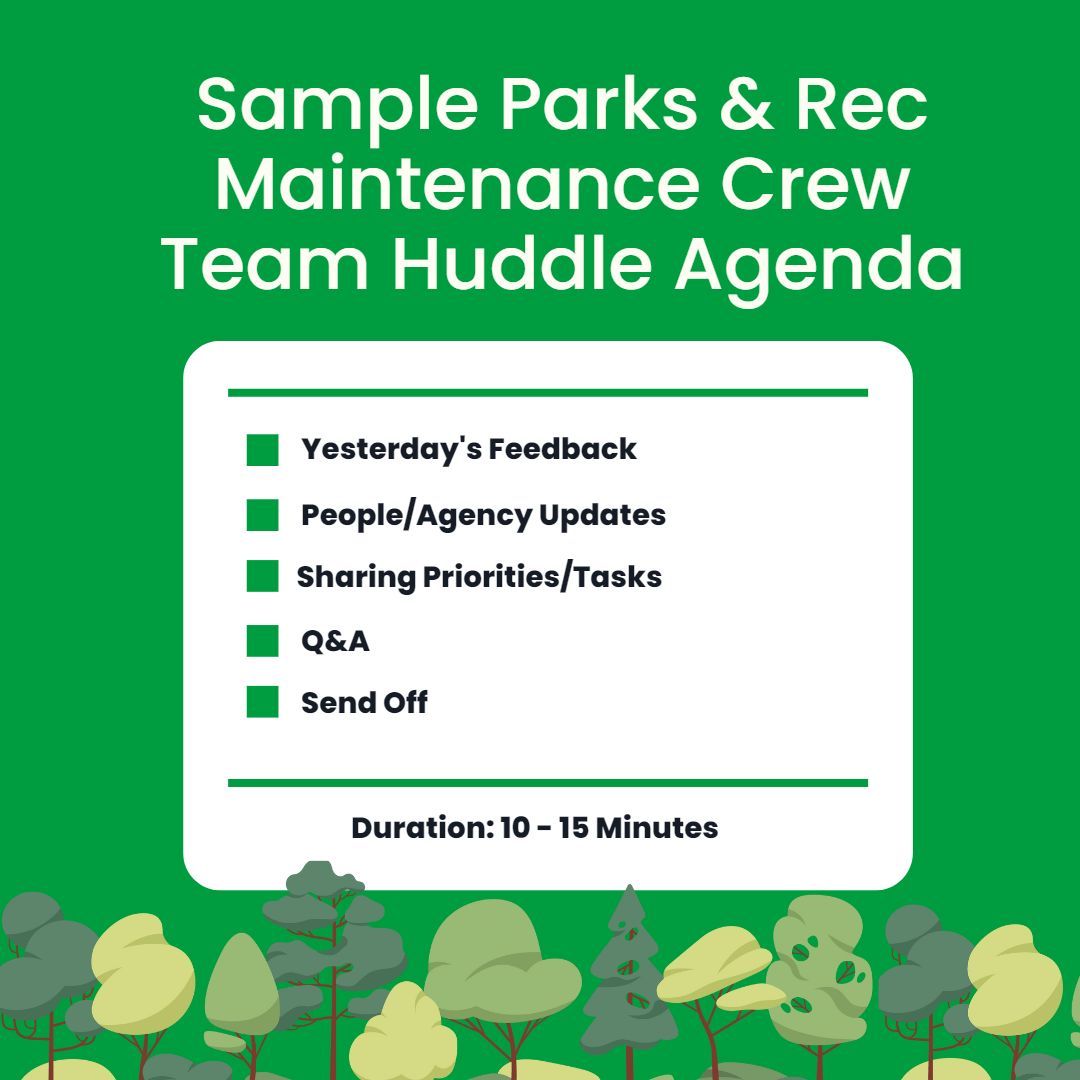 A sample huddle agenda could look like this:
Yesterday's Feedback: What did the team do well, and what got accomplished yesterday?
People/Agency Updates: Any agency news to report, birthdays, work anniversaries, etc.
Sharing Priorities/Tasks: Each member shares what they plan to accomplish today. Assign any other relevant tasks.
Q&A: Answer any questions about issues. If it's not a quick fix, save the question for later.
Send Off: Share any other relevant or inspiring information and get to work.
Spend 2-3 minutes on each point, and your meeting is complete.
If the conversation goes off the agenda, note the issue and save it for the next formal meeting.
Stay Standing
You don't see football teams sitting on the turf planning their next play. Sitting down to meet can take away the urgency and motivation to get working. Standing helps the team feel more alert and ready to move on with the day.
Also, standing meetings tend to be shorter than regular meetings. If your team has trouble completing a huddle in 15 minutes, have them all stand.
Stay in the Short Term
Team huddles are more of a briefing than a planning session. Give each member of the crew action items to work on for the day. It can be beneficial to mention an upcoming event or change in routine but don't get too far in the weeds with it.
Team huddles allow your "doers" to take it one day at a time.
The Takeaway
A little bit of time invested each morning can have a big impact on the entire day's workflow. Take advantage of a team huddle by leading a focused, brief meeting that aligns your team.