Growing concerns about food sources have a lot of people considering growing their own food.
Community gardens are an excellent opportunity for both gardening enthusiasts and novice green thumbs to have a space to grow their food and hone their skills.
Setting up and maintaining a thriving community garden is more complicated than it seems. This article will give you insights into what to goes into the garden's development and upkeep.
What Is A Community Garden?
A community garden is a plot of land where several gardeners contribute to growing vegetables, fruits, or plants either separately or collectively.
The garden could be an agreement with a private land owner or created on underused public lands.
Sometimes the garden is divided into plots where each gardener grows their own plants. Other times, a group--such as a church or nonprofit--maintains the entire garden and shares surpluses with food banks or food pantries.
Benefits of a Community Garden
One of the biggest benefits of a community garden is its sense of--you guessed it--community. Individuals from the area work together, share tips and stories, and enjoy each others' successes.
But these gardens run much deeper than giving a spot for gardeners to debate about the best way to stake tomatoes or keep out garden pests.
Community gardens also:
Encourage others to be outdoors and reconnect with nature
Increase food security in the area
Give more people access to healthy produce
Allow opportunities for exercise and stress relief
Provide educational experiences and mentoring for novice gardeners
Give apartment dwellers and those without backyards a chance to garden
The garden benefits more than the participants and the surrounding community. It can also have environmental impacts for the area, including:
Reducing rain runoff
Increasing biodiversity in the area
Giving a place to recycle local organic materials for compost
Reducing the heat-island effect in cities
Land Requirements
Many aspects contribute to a community garden's success. Most importantly, the area used.
Several things must be in place for favorable growing conditions. Here are a few:
Get at least 6 hours of sunlight a day
Good drainage--not as likely to flood
Is reasonably accessible for participants
Near a water source
If your agency or city has an unused plot of land that check these boxes, it's an excellent start. The next step is to conduct a soil test to ensure the soil is safe for growing edible food. It will help your team determine if soil amendments are needed while developing the land.
Developing A Community Garden
After you find a suitable location, it's time to nail down some of the other basics. Your agency needs to determine the public's needs and desires, create funds and plans for development, and determine how it will be run.
Then, as you dive deeper, you need to start putting together the details of the following four areas: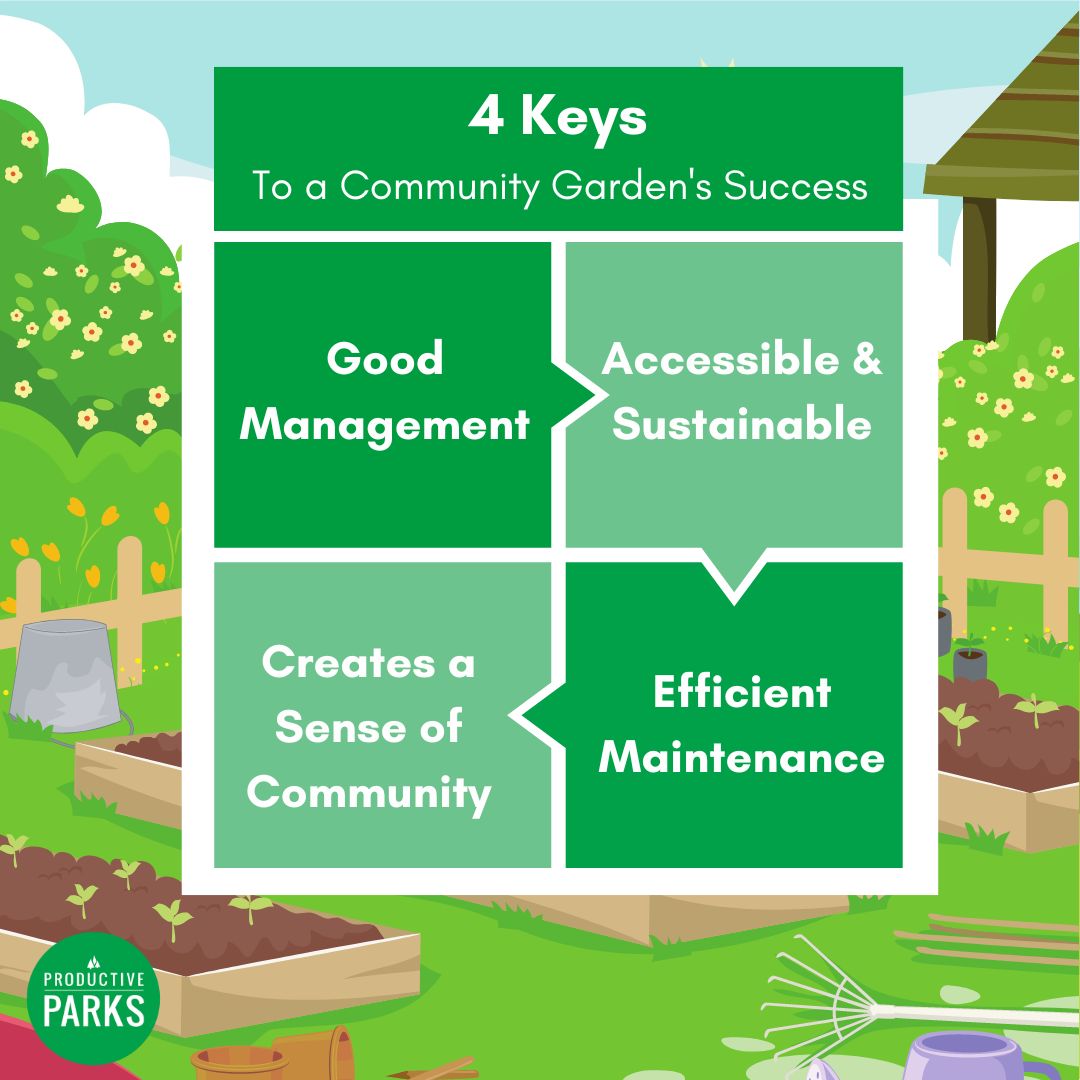 4 Keys to a Community Garden's Success
Good Management: Establish a clear system to review & accept applications, communicate expectations, coordinate maintenance, and enforce rules. Determine leadership expectations among agency staff and gardeners.
Accessible and Sustainable: Ensuring it's relatively easy to get to the area makes it more accessible for all ability/mobility levels. Adding some raised gardens is another option for better accessibility. Also, finding ways to cover the maintenance, organizational, and administrative costs ensures the garden becomes part of your long-term plans.
Creating a Sense of Community: A good garden experience will keep participants coming back each year, which could bring in consistent revenue for an agency. When a sense of community gets established, it also invites a stronger feeling of ownership among gardeners. This ownership will help keep the garden maintained better and ensure rules get followed.
Efficient Maintenance: Plan what maintenance will be the gardeners' responsibility and what will fall on the maintenance team. Also, set up schedules for your team to do inspections and any skilled maintenance. Developing a work request system efficiently communicates issues.
And Then The Paperwork
Next, comes the paperwork. If using private land, a land lease may be required. Also, you may ask potential gardeners to fill out an application to learn more about their intentions and experience. Accepted gardeners should also fill out a gardener agreement that communicates expectations.
And don't forget risk management--the area will need liability insurance or waivers in case any of the injured gardeners.
Feeling a little overwhelmed? Here is a good Community Garden Toolkit resource from NPlan and ChangeLabSolutions.
Setting Rules and Regulations
As part of the planning and paperwork process. Ground rules for the garden should be established. Rules include:
Time of Year the Garden is Accessible
Daily Hours
Access to Garden
Use of Herbicides/Pesticides
Available Tools/Tools Gardeners Bring
Plat Maintenance Rules
Basic Conduct and Behaviors
Maintaining the Community Garden
Finally, ensuring the garden is secure, safe, and in good condition throughout the growing season will help retain gardeners year after year.
As mentioned before, gardeners and the maintenance team can share some responsibilities. The gardener agreement could include a set amount of volunteer hours required for general maintenance. Or workdays could be set up where the gardeners team up to tackle some maintenance tasks.
Ultimately, some tasks will fall on the maintenance department. These tasks could include:
Mowing Around Area
Spring/Fall Plowing or Tilling
Maintaining the Water Source
Addressing Vandalism and Theft
Delivering Compost and Mulch
Equipment Repair
Completing Gardeners' Work Requests
By scheduling tasks and having an efficient work order management system, the maintenance team will have a better opportunity to stay on top of these tasks.
The Takeaway
A community garden can be an excellent opportunity to make gardening accessible, promote growth in the community, and increase the availability of healthy, fresh produce in the area. Time and planning are needed to develop and maintain the garden. Creating a plan and involving enthusiastic gardeners, however, can help make this community opportunity a success.