Pickleball courts are in high demand. After all, pickleball is the fastest-growing sport in many areas throughout the country. Is your agency getting feedback from the public to add more pickleball courts?
In the first part of this series, we discussed what to consider when planning pickleball courts. Now, let's explore the most common pickleball installation options and some pros/cons for each.
Pickleball Installation Options
High demand shouldn't keep your agency from making sound decisions about the best placement and option for installing a pickleball court. Each type of pickleball installation comes with its set of pros and cons, which we will explore.
Before considering any option, you may want to gather a team to research and answer the following questions:
What is the demand for pickleball in my area?
Will the site be exclusively pickleball, or can it be used for other sports?
Can we expect conflict if pickleball courts get added to other playing surfaces?
What kind of budget/funding is available?
What space is available?
Will my asset be able to handle the extra visitors (parking spots, restrooms, etc.)?
What are other amenities necessary at a new pickleball site (storage, bleachers, concessions, etc.)?
With this knowledge in mind, you can start exploring your options.
Creating Brand New Courts
If you have available space, high demand, and financial resources, you may want to consider pouring concrete for brand-new pickleball courts.
Your agency will likely have several hoops to jump through, like ensuring proper grading, drainage, excavation, clearances, and permits. You'll also work with landscape architects, concrete or sports court surfacing contractors, urban planners, or more to plan and implement the new courts.
While it will be a considerable undertaking, the pickleball enthusiasts in your area will probably look like kids on Christmas morning at the ribbon cutting.
Pros: More visitors to your site, not dealing with existing issues of converting an older court, ability to create the courts with the best interest of the public, land, and environment in mind. Plus, you'll probably have some bragging rights for constructing brand-new pickleball courts.
Cons: The most expensive option by far. It may be challenging to implement if space is limited. If the pickleball trend quickly fades, the money may have been better spent elsewhere.
Bottom Line: We all like new, shiny things, but they often come with a price.
Converting Tennis Courts into Pickleball Courts
If the entire tennis court area--including runoffs--is regulation size (60' x120') with square corners, you have enough room to fit up to four pickleball courts. Of course, making that happen requires some work.
If you want to convert tennis courts to pickleball courts, some tasks to consider include:
Removing tennis posts and anchors
Capping the post holes
Installing pickleball net post sleeves in footers
Installing pipe anchors in a small concrete footer at the center of each net
Resurfacing playing area
Restriping for pickleball courts
Pros: The court's base already exists to save time and money on installation. Allows pickleball "purists" to play with regulation height nets. New opportunities for existing spaces.
Cons: It may upset tennis players if there are not any other nearby tennis courts. Tennis courts' preexisting issues--like heaving, cracking, or deteriorating--need to be addressed.
Bottom Line: If you have tennis courts resembling ghost towns, converting them to pickleball courts may bring new life into them.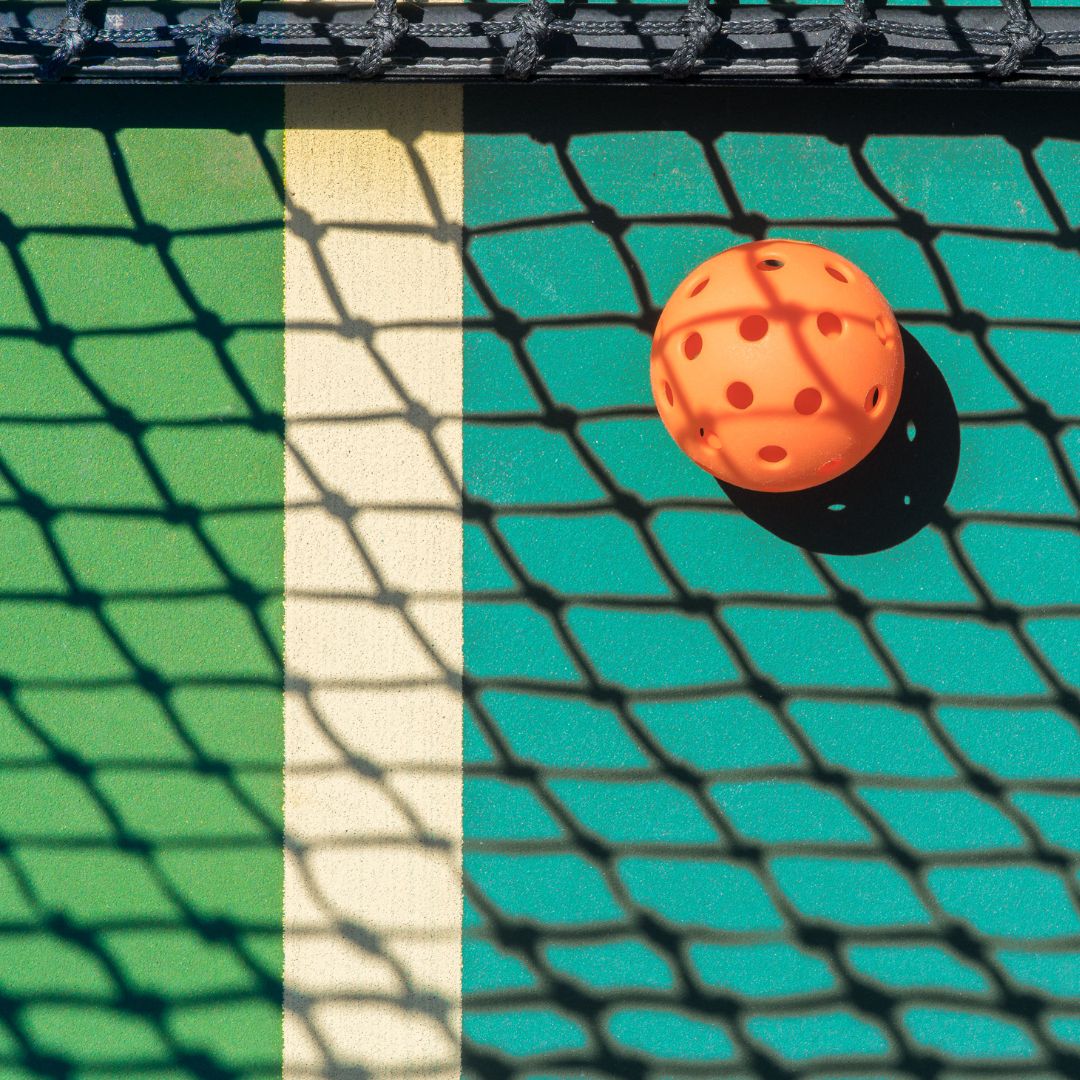 Adding Pickleball Lines to Tennis Courts
If your community is unwilling to part with the tennis courts, you may consider adding existing lines to the tennis courts.
Determine usage for the tennis courts and pickleball courts. Some tennis courts can remain exclusively for tennis. Others can have pickleball court lines added. Layouts can include lines for 1 to 4 pickleball courts in each regulation-size tennis court.
While making as many pickleball courts as possible may seem like a good idea, use caution while planning. The four-court layout causes significant overruns on either side of the tennis court, which could lead to hazardous conditions. Also, fewer pickleball courts within a tennis court make it easier to differentiate among the courts.
Once you have a layout setup, determine if you want lines added short or long-term. Choose a color that stands out from the tennis court lines to avoid confusion.
Painting stripes is an affordable and more long-term option. There are also a variety of stencils and court tape. Avoid using cheap court tape, as heat and sunlight can cause it to melt to the court surface, making it nearly impossible to remove (your maintenance tech will thank you).
Pro: Most affordable installation option, especially if the tennis court surfaces are in good condition. May not require extra work from contractors--especially if you have a crew member skilled at line stripe.
Cons: Additional lines on tennis courts make it ineligible for sanctioned tennis play. Pickleball "purists" may be upset because the net height is slightly higher than regulation. May cause conflicts if the area gets used frequently for both sports.
The bottom line: Most pickleball and tennis players can enjoy the courts with this cost-effective pickleball installation option--you just need to make sure they're playing together nicely.
Using Portable Sets and Temporary Marking Tape
If pickleball isn't that big in your area, but you do want to offer some programming, setting up temporary courts may be your best option.
Since you can play pickleball on just about any flat, hard surface, setting up temporary nets is easy. Marking areas with tape or cones make for easy cleanup once the program is complete.
Pros: Affordable, low risk on investment, doesn't require any permanent changes to facilities. Great option to explore your community's interest in pickleball and determine if a more permanent solution is worth the investment.
Cons: Need staff for set up and take down, not as durable as more permanent options, need a location to store nets. It may only be available to visitors at certain times.
The Bottom Line: The affordable, low-risk way to dip your toes in the water of the tidal wave of pickleball popularity.
The Takeaway
By asking the essential questions and examining your options, your agency can find the best solution to help the public enjoy this quickly-growing sport.
To close out this series, we'll discuss how to maintain pickleball courts so they remain a valuable asset and source of joy for the public.