As a manager or supervisor, have you fallen into this trap?
You spend time and energy on employee selection, hiring, and training. Once the workers are on the job, they get left to their own devices. You let them get their bearings, have the team help manage issues, and deal with the bigger picture. Before you know it, it's time for the performance review. This extra paperwork seems more like a formality to please the HR department than anything else.
You're not alone. That's how it happens for a lot of agencies.
But what if evaluating employee performance was more than a formality? Something that can actually benefit you, your team, and your agency?
It's possible!
Benefits of Evaluating Maintenance Employees
Good management and supervision are not simply a matter of putting plans into action. It also requires coaching your employees to encourage the best quality of work.
Effective employee evaluations create an environment where employees are more engaged, accountable, and focused. In addition, performance reviews help:
Allow for checking in without micromanaging
Create a path for an individual's career growth
Address areas for improvement
Determine necessary training
Acknowledge the strengths of good employees
Open the discussion on new ways of doing things
Guide current and future projects
Provide documentation to track an employee's development
Beginning to see the potential of making evaluations more than a formality? Let's go over the process.
The Evaluation Process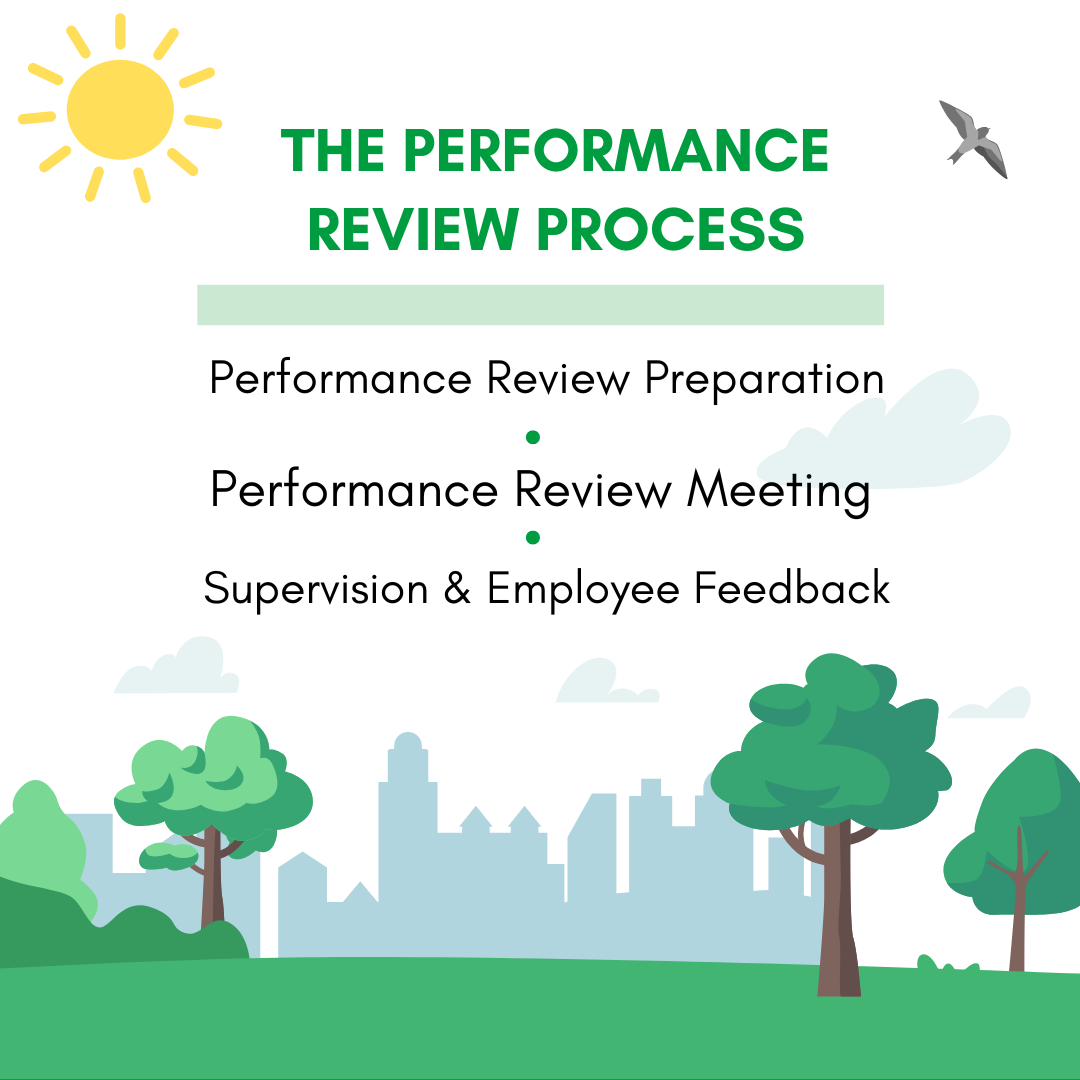 The evaluation process involves objectively assessing an employee's performance, clearly discussing it with the individual, and making a plan to move forward.
The foundation of an employee evaluation is a formal, standardized, and objective performance appraisal (or review). If your agency doesn't have one in place, collaborating with your team, managers, and the HR department allows for creating a review that is fair and beneficial to all levels of employees.
Ideally, an appraisal is clear, straightforward, and not so cumbersome that it causes rater irritation or fatigue when preparing the review.
Performance Review Preparation
Maintenance supervisors should start by reviewing the employee's job description. Then, make sure all criteria in the appraisal are appropriate.
Find a time with minimal distractions when your mood is neutral--seems easier said than done, right? If you are unsure of areas of the evaluation, consult with a trusted crew leader or another individual that works with the employee.
Employees should get advanced notice about their review meeting. Also, if applicable, they should be given ample time to complete a self-evaluation. Self-evaluations provide an easy way to compare the perceptions of the supervisor and employee. The differences in perception encourage an open discussion during the meeting.
Performance Review Meeting
Begin by explaining the purpose of the performance appraisal and expectations for the meeting. Review the job description, evaluation, and self-evaluation. Clarify job expectations related to the evaluation findings. Discuss any difference in the scoring between the supervisor and self-evaluation.
Next, plan on how to address any discrepancies in an employee's job performance. This could include additional training, staff mentoring, or reassigning of roles.
Finally, have the employee sign off on the evaluation. Explain that signing off does not necessarily mean agreeing with all the findings but that the employee read and understood everything presented.
Supervision & Employee Feedback
For employees to succeed, they must receive objective feedback from those that evaluate their performance.
Feedback shouldn't end after the performance review. Informal day-to-day feedback may be more important than what's discussed during the employee review.
Actively listen to employees about work-related issues that may affect job performance. Collaborate and troubleshoot issues to satisfy the needs of the maintenance team and the individual.
Considerations for the Evaluation Process
As long as humans remain part of the evaluation process, ratings will not be entirely objective. Many decisions and actions depend on a matter of opinion. Instead of criticizing this fact, time and attention should be given to finding ways of putting those opinions in a more systematic and factual basis.
Typical rating errors any evaluator should be aware of include:
Leniency: An overrated view of an employee's performance, causing less chance of constructive employee guidance.
Halo Effect: An employee does one thing so well that it influences the overall rating of a review causing inaccuracies about the individual's entire performance.
Central Tendency: Not fully knowing an employee's particular areas of performance causes an average or standard rating when it may not be the case.
Contrasting: Comparing an employee to oneself instead of objectively rating based on performance goals or job description.
Bias: Rating on assumptions, prejudices, or an employee's past behaviors causes an inclination toward a conclusion instead of objectively approaching it.
Incorporating Objective Data
One way to balance subjective opinions is by incorporating and analyzing objective data based on an employee's work performance. For example, agencies using computerized maintenance management software (CMMS) can get quick reports on an employee's task management, labor hours, and more.
Objective data in an evaluation provides evidence for an individual's ratings. While there may still be some room for interpretation, it gives the evaluator guideposts for making decisions. Furthermore, it shows the employee what led to the conclusions.
Conclusion
When done right, evaluating employee performance allows you to develop your leadership skills and strengthen your team. It also allows your employees to celebrate successes, troubleshoot need areas, and focus on career growth.
Employee evaluation can be a time-consuming process. By understanding the evaluation process and how to rate an employee objectively, its value lies in the basis for permanent assignment, promotions, employee training, validation of recruitment, and other personal selection procedures.